With lockdown restrictions being lifted, parties are coming back in full force.  Balloon bouquets are a great addition to any celebratory event!
What are balloon bouquets?
Traditionally, balloon bouquets are associated with several helium balloons grouped together in an aesthetically pleasing arrangement.  More recently, "balloon bouquet" has become a loose term for any balloon arrangement, both helium and/or air, and can be used for any occasion!
Below are 21 trending balloon bouquet ideas for 2022:
1.      Helium balloon bouquet
Helium bouquets are your standard arrangements of three or more helium-filled balloons.  Make sure to arrange them in a cascading or staggered manner to achieve the most optimal look.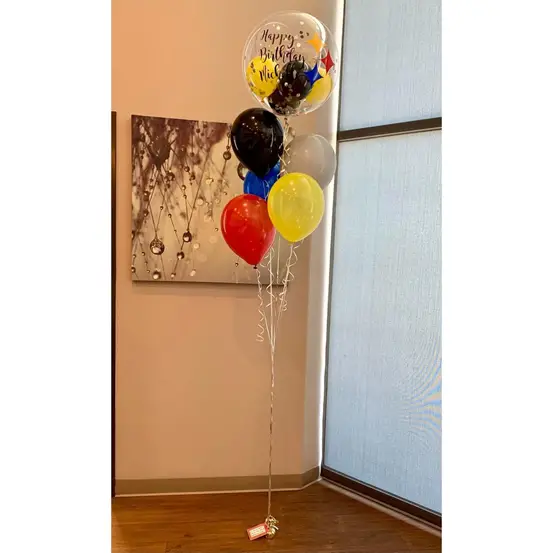 2. Balloon bouquet without helium
Balloon bouquets without helium are a popular alternative when helium is not readily accessible.  A non-helium balloon bouquet arrangement can be made with a balloon stand or without.  The possibilities are endless!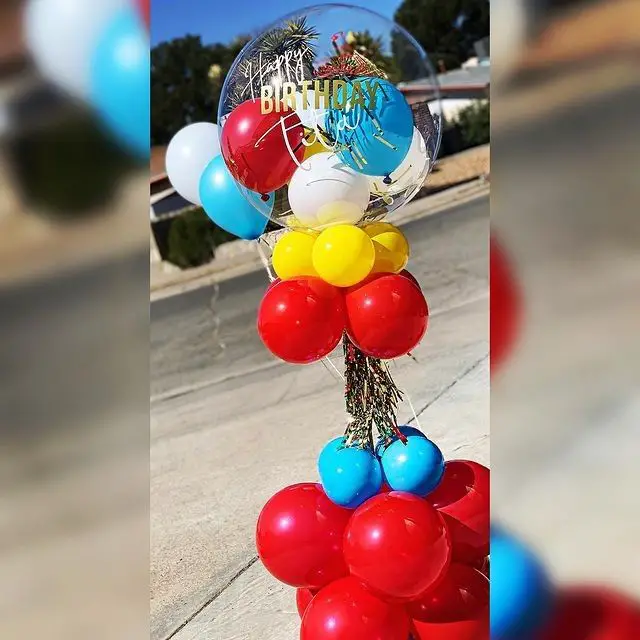 3.     Table top balloon bouquets
Table top balloon bouquets are an excellent way to add pizazz to any party décor.  Table top balloon bouquets can range from small centerpieces to larger statement pieces that can graze the ceiling.  Add in confetti or mylar spray for an added touch of eye-catching sparkle.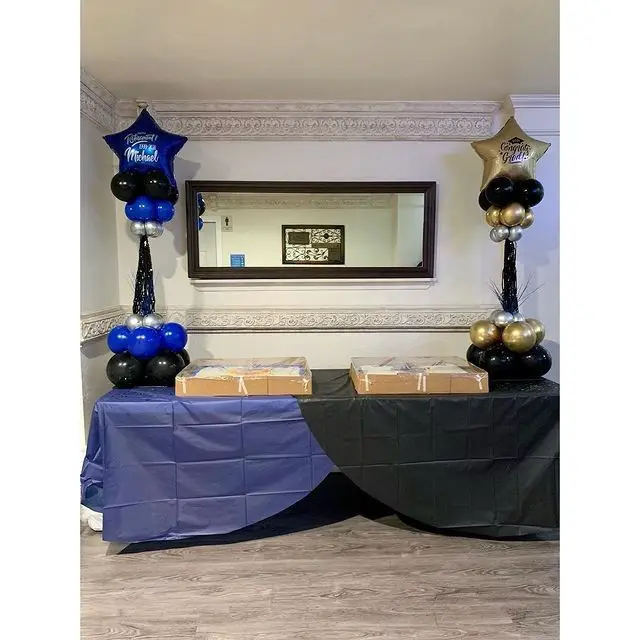 4. Balloon bouquet with numbers
Adding foil numbers to a balloon bouquet are a delightful way to celebrate a birthday, anniversary, or graduation! Keep in mind that when creating a helium balloon bouquet with number(s), the number must be greater than 40" in order to float.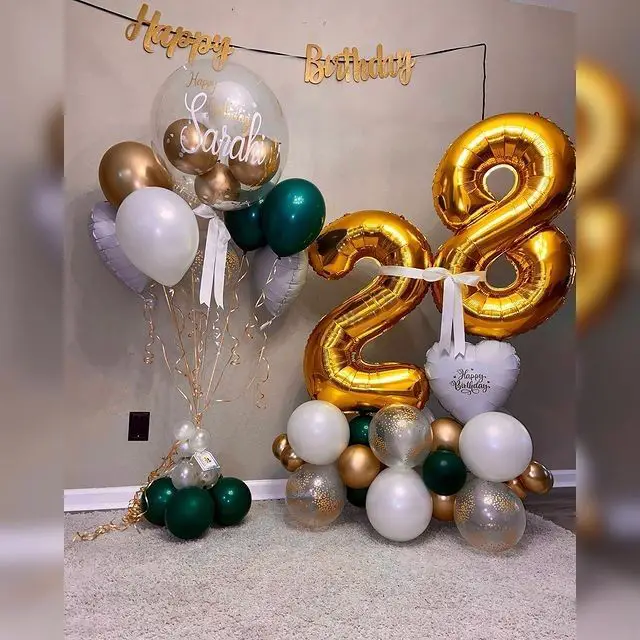 5.     Balloon bouquet with teddy bear, chocolate, or cake
Balloon bouquets can be arranged around a basket filled with chocolates, or even arranged as an elegant cake topper!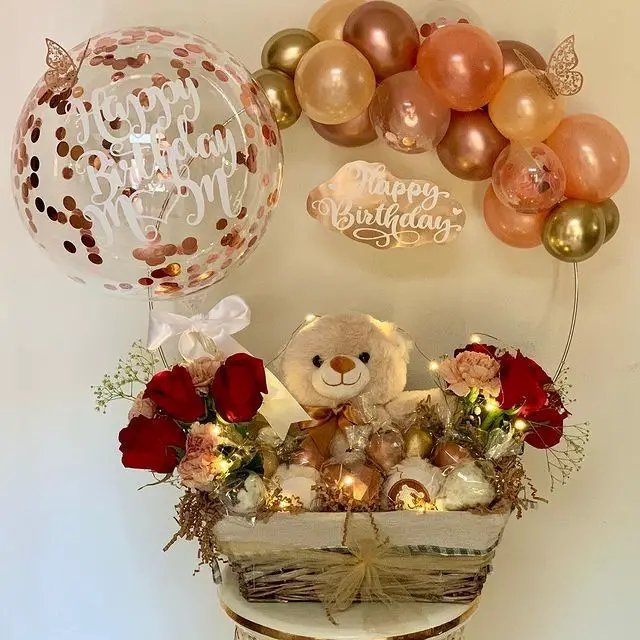 6.    Balloon bouquet with flowers
Hot-air balloon styles with an assortment of flowers at the base has been a classic gift arrangement for years and will never go out of style.  These are increasingly popular around Mother's Day and Valentine's Day.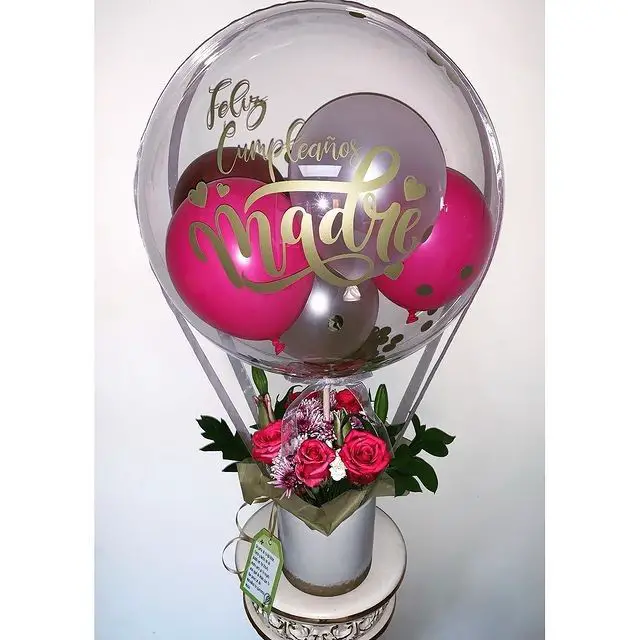 7.      Balloon flower bouquet
Also trending in 2021 are flower bouquets made out of balloons.  These arrangements can range from as little as three flowers per bouquet, or even hundreds!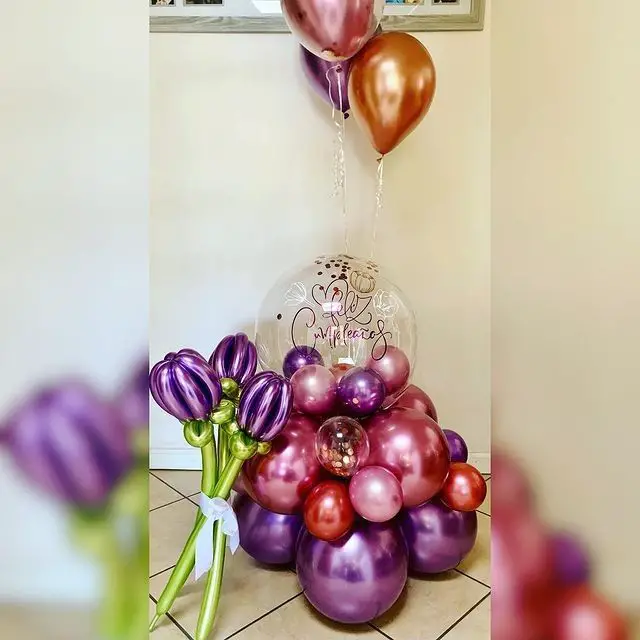 8.      Balloon bouquet with lights
LED string lights can be wrapped around bobo balloons to add an illuminating touch to any arrangement.  In addition, small LED lights can be stuffed in individual balloons.  Be sure to include a disclaimer with these LED lights because the light itself and/or the battery can easily be ingested by small children or pets.  Safety first!
https://ae01.alicdn.com/kf/HTB1T404elLN8KJjSZFpq6zZaVXaV/One-Dozen-Clear-Luminous-Led-Helium-Balloon-Colorful-Transparent-Round-Bubble-Balloons-Glow-in-the-dark.jpg
9.      Balloon bouquet with money
Another popular and fun balloon bouquet trend is adding money to the balloon arrangement, either in the form of a balloon tail, stuffed into a clear bobo balloon, or as a part of a surprise box!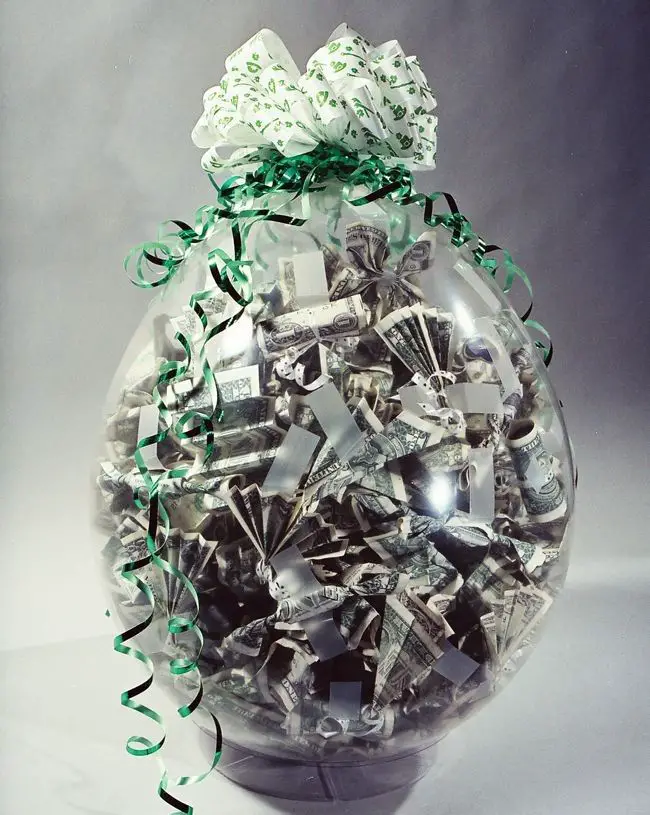 https://i.pinimg.com/originals/96/13/0d/96130d0b2a988a5ff28cf775cca84811.jpg
10.      Balloon bouquet with name
Balloon bouquets can be customized with a person's name in multiple ways.  You can order individual letter balloons, or have vinyl decals cut to the name, and then placed on a balloon – ideally, a foil balloon or bobo balloon.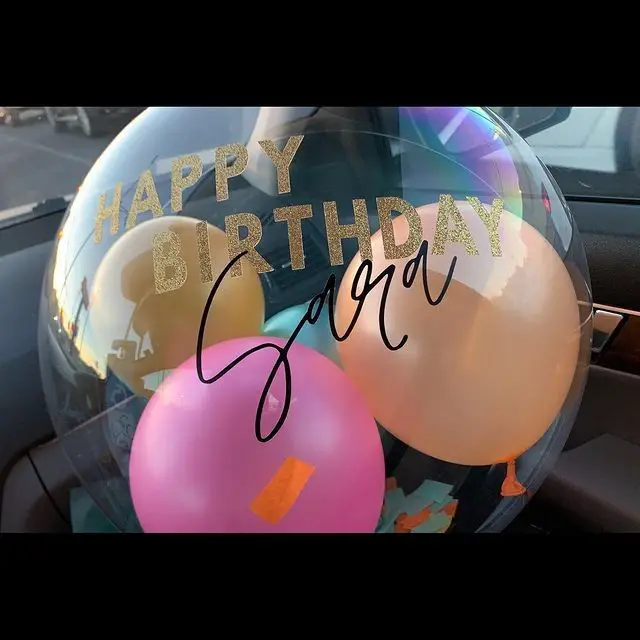 11.      Balloon bouquet black and gold
Black and gold are a timeless color combination that adds class to any celebration.  Chrome gold balloons are especially beautiful and have an unrivaled luster.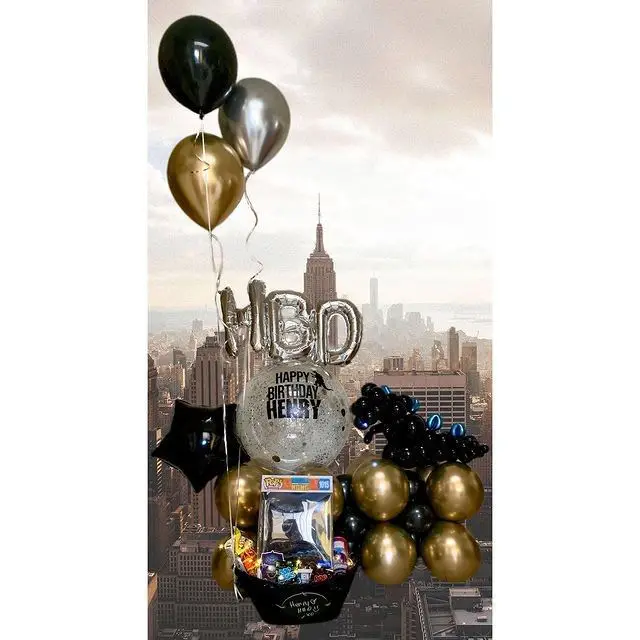 12.      Magical unicorn balloon bouquet
Unicorns have been trending with children and adults alike.  Adding unicorns to a balloon bouquet is sure to add excitement to any birthday party.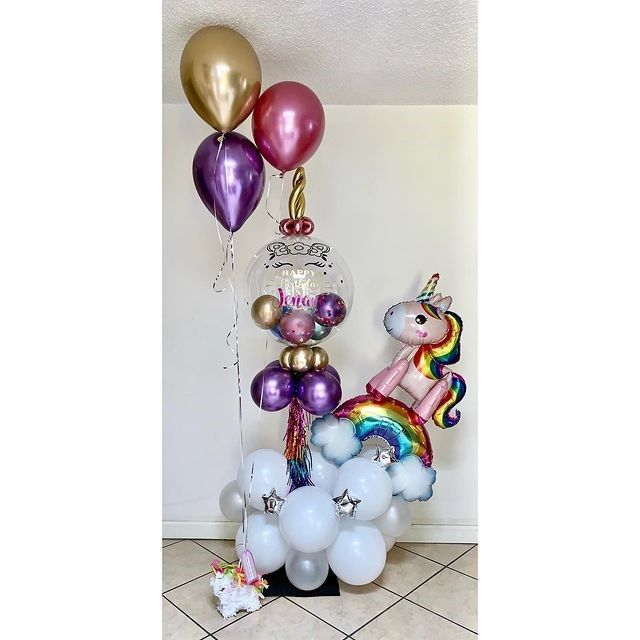 13.      Balloon bouquet rainbow
Rainbow balloon bouquets have also been popular in 2021.  A rainbow shape can be created with 260 balloons, or foil rainbow balloons can be purchased.  Rainbow color arrangements have also been in high demand because of the attention-grabbing bright pops of color.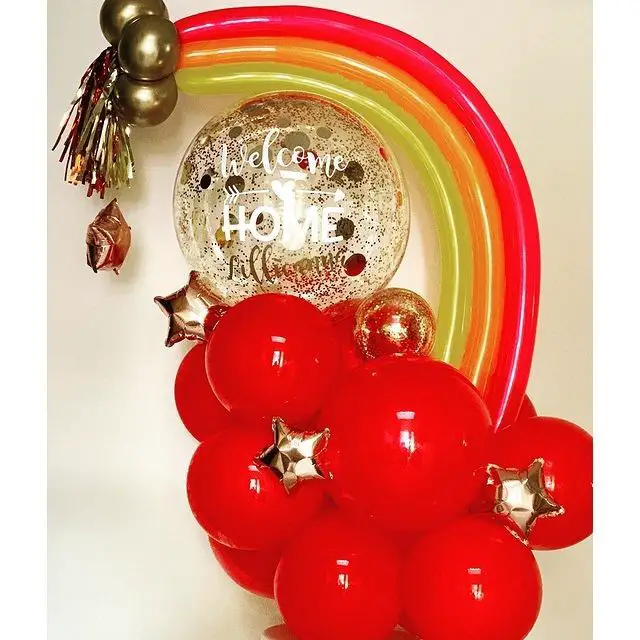 14.      Balloon bouquet for baby shower/gender reveal
Generally, a 36" black balloon is used for a gender reveal helium balloon bouquet, and can be stuffed with pink or blue balloons, confetti, or cornstarch powder.  Include accent balloons and a balloon popper with the arrangement to bring it all together.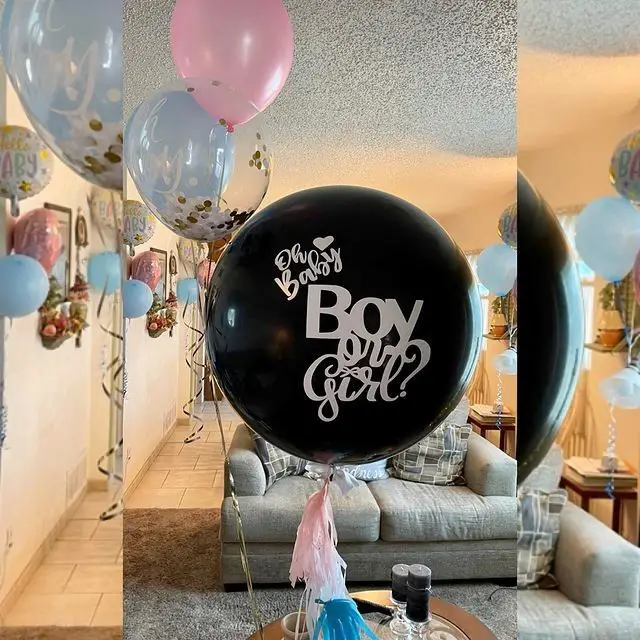 15.      Rose gold balloon bouquet
Rose gold has been increasing in popularity and has been trending for weddings and bachelorette parties.  Pair rose gold with peach and traditional gold tones for a beautiful color combination.
16.      Bobo balloon bouquet
Bobo balloon bouquets are popular for their glassy shine and perfect spherical shape.  Add a tassel or fill them with balloons for the extra "wow" factor.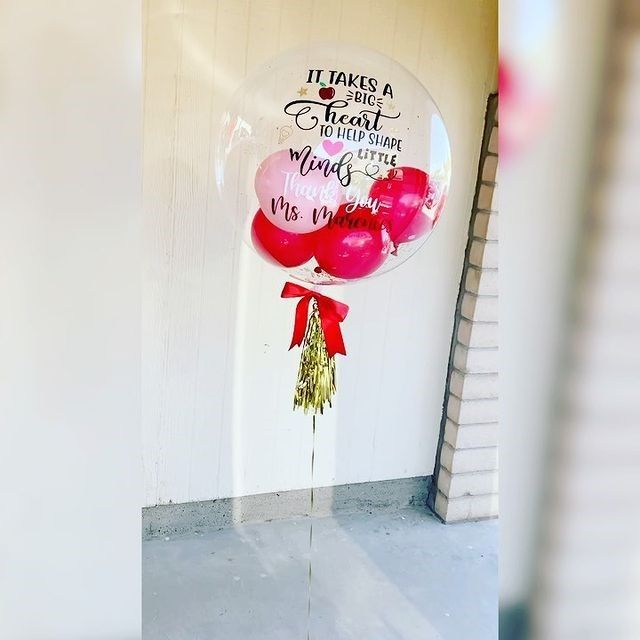 17.      Mickey Mouse balloon bouquet
Mickey and Minnie are in high demand, especially for first birthdays! Black, yellow, and red color combination along with polka dots work well for these arrangements.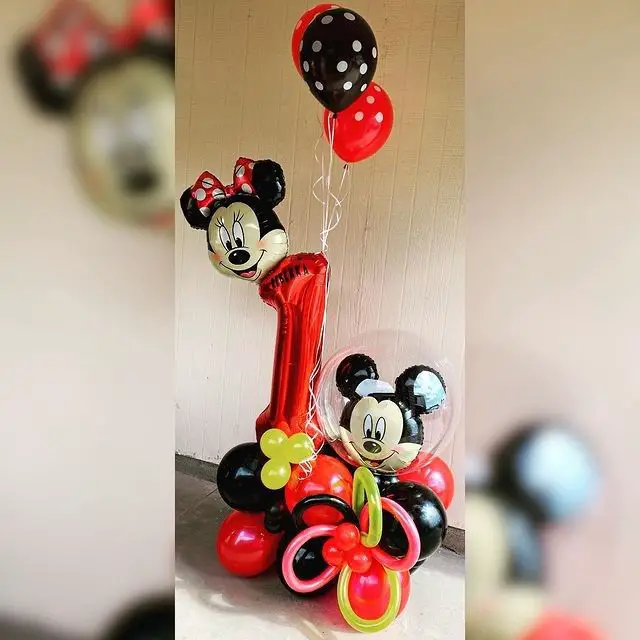 18.      Air hug balloon bouquets
Increasingly popular during quarantine, touchless delivery of "air hug" helium balloon bouquets reminded many that they were still being thought of and not alone during isolation.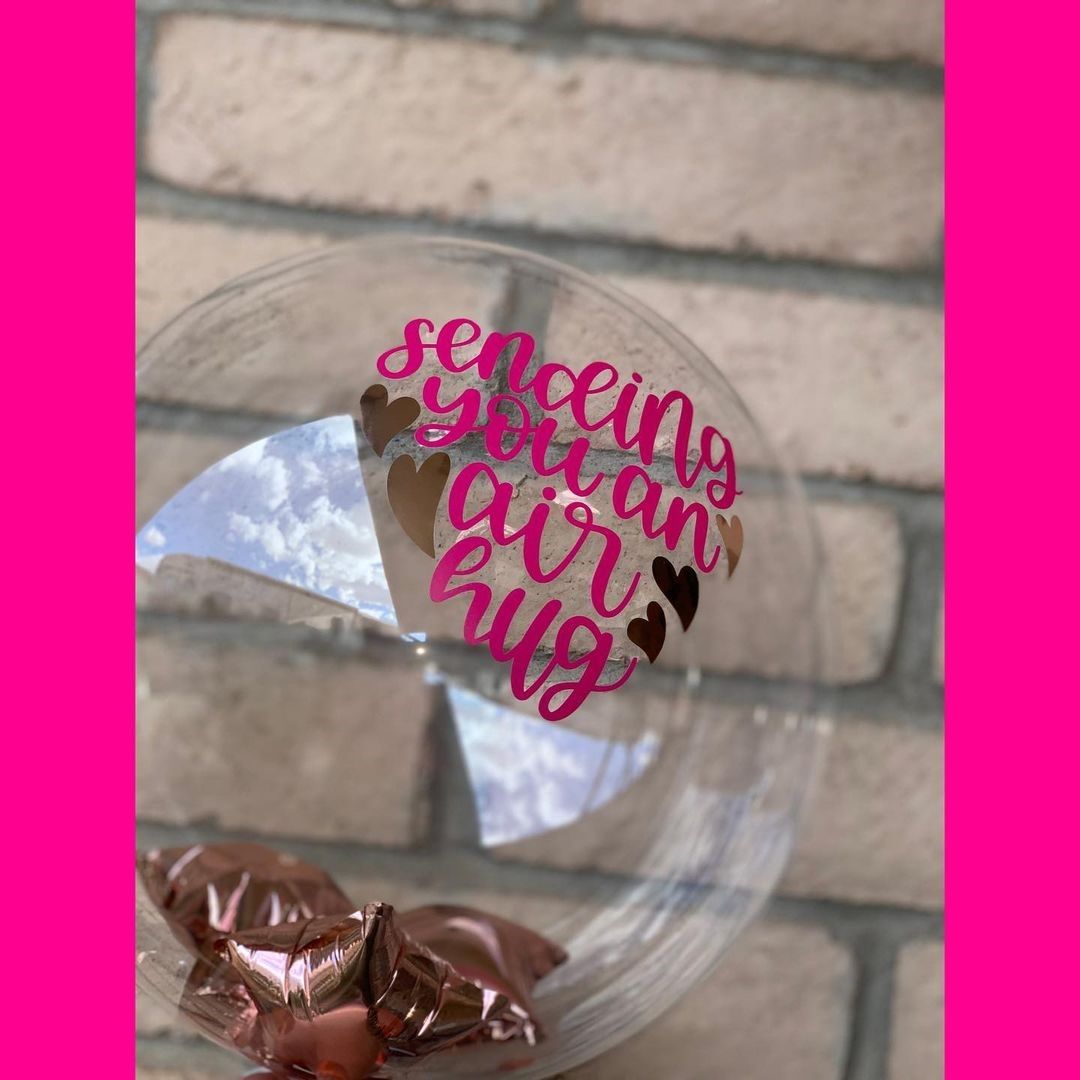 19.      Bubble hug balloon bouquet
As the name implies, this balloon bouquet arrangement consists of a mini garland wrapped around a larger balloon, like a hug.  Another name for this arrangement is a "bubble garland."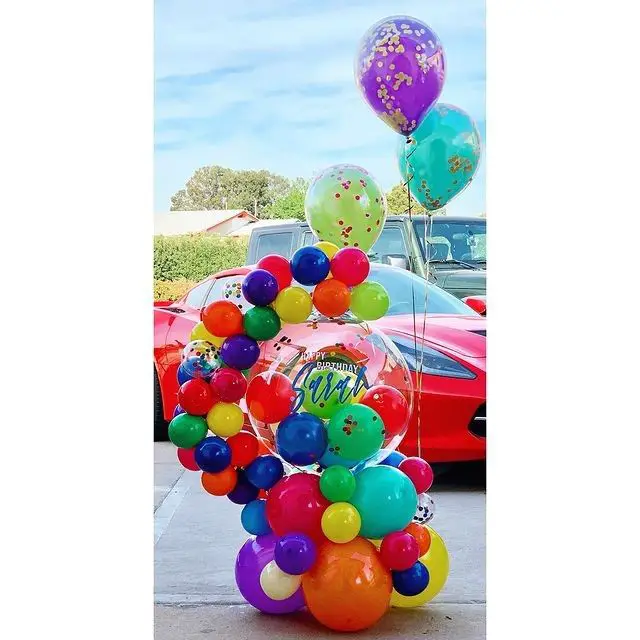 20.      Balloon marquee
Balloon marquees are free-standing balloon arrangements and are so versatile! There are many variations on these bouquets in terms of size, shapes, and add-ons!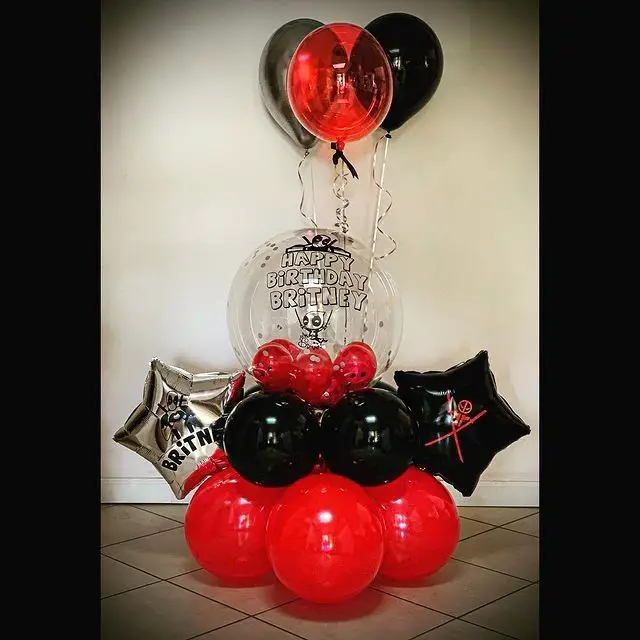 21.      Balloon wreath
A balloon wreath is based around a circular frame, although some frames can be square, oval, or even heart-shaped.  It is an elegant way to display balloons and although it is typically hung from a hook, it can be attached to a weighted base to stand up on its own.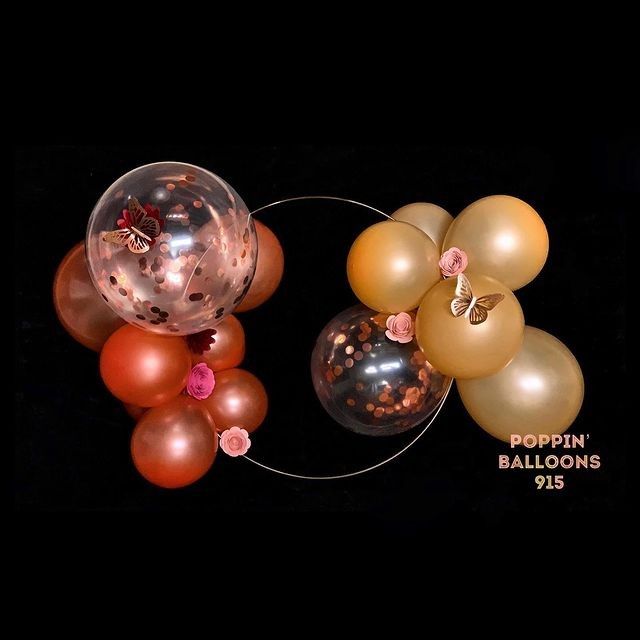 Balloon bouquet cost
How much do balloon bouquets cost?
This depends on a variety of factors, mainly the materials used and the labor placed into creating a balloon bouquet arrangement.  The price of helium has increased, and the cost of a helium balloon bouquet at Party City can easily skyrocket.  The size of the helium-filled balloons must also be factored into the total cost of the arrangement.  For example, it will cost much less to fill a 9" balloon vs. a 36" balloon with helium.  One must also factor in the artistry placed into creating a balloon bouquet arrangement.  Some arrangements can take hours to create, which ultimately factors into the cost.
A more cost-effective alternative is a balloon bouquet DIY.  How to do a balloon bouquet will be covered in another blog!